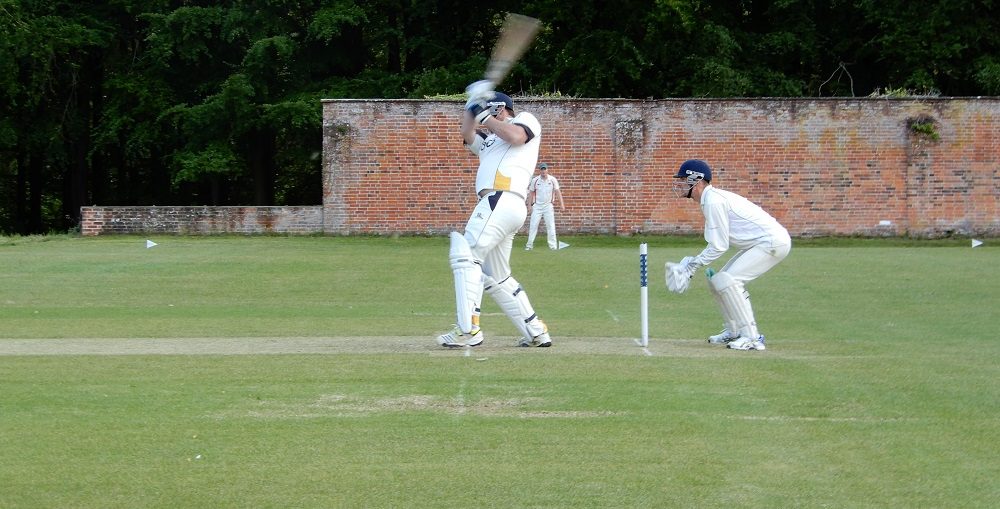 This was a T20 match, skippered by Tom Grant who, come the day, was unable to play due to injury so Jack Bramwell did the honours.  We batted first, didn't get off to a quick start – 69 from 10 overs – but finished with a decent flourish that enabled us to post a total of 152. Richard Mansell [30], and Simon Cottle [20] contributed well, Jack Bramwell [10] was punished by their 6-over-the-wall-and-out regulation, even though it was a no ball, but the late flourish from Nick Leech [37] and Simon Campbell [18] catapulted the score from 99 after 15 overs to 152 at the close.
Our early reply with the ball was mean!  Rupert Bagnall bowled 4 overs for 4 runs and George Leishman 3 overs for 10 runs, plus the wicket of the opener. After that only their skipper Joe Maloney made a charge with a very useful 52* but the asking rate was just too much and they finished on 135 at stumps.
After that it was off to the pub in Great Cheverell for some refreshment and to see who would be fit for the next match, also a T20, on Thursday vs Devizes CC.
Wiltshire Queries CC v Erlestoke CC
Played on:   28th May 2019
At:   Erlestoke CC Walled Garden
Toss won by    Erlestoke who elected to field  first
Result:  Queries won by 17 runs
1st Innings:   
2nd Innings:  
1
Tom Churchill
Ct ?, b Morrison
16
1
N Palmer
6 and out:
24
2
Richard Mansell
Ct T Dorgan, b Croucher
30
2
F Plant
Ct Bramwell, b Leishman
5
3
Jack Bramwell
6 and out; b Morrison
10
3
J Brookes
Ct Leech, b Coupe F
20
4
Ian Wheeler
B Bedford
4
4
J Mahoney
Not out
52
5
Simon Cottle
Ct ?, b Croucher
20
5
Dorgan T
6 and out:
8
6
Simon Campbell
Not out
18
6
M Bedford
Not out
3
7
Nick Leech
Not out
37
7
CRoucher
8
George Leishman
8
Morrison
9
Rupert Bagnall
9
Hazelton
10
Cam Garbutt
10
Coupe E
11
Fred Coupe
11
ano
Extras
18
Extras
19
Total
152
Total
135
Wkts
5
Wkts
4
* captain    † w/keeper   © = candidate/non-member
FoW: 17/1; 33/2; 41/3; 92/4; 99/5
FoW:
Bowling
 
Bowling
Bowler
Overs
Mdns
Runs
Wkts
Bowler
Overs
Mdns
Runs
Wkts
Morrison
2
0
33
2
Leishman
4
0
19
1
Brooks
3
1
8
0
Bagnall
4
1
4
0
Bedford
2
1
4
1
C Garbutt
4
0
35
0
Plant
3
0
25
0
Coupe F
3
0
21
1
Coupe E
2
0
16
0
N Leech
3
0
21
0
Hazelton
3
0
19
0
S Campbell
2
0
22
0
Croucher
2
0
7
2
Dorgan T
2
0
16
0
Palmer
1
0
24
0
[20]
[2]
[153]
[5]
[20]
[1]
[122]
[4]
Umpires:  B Aitken
Scorer:   T Grant