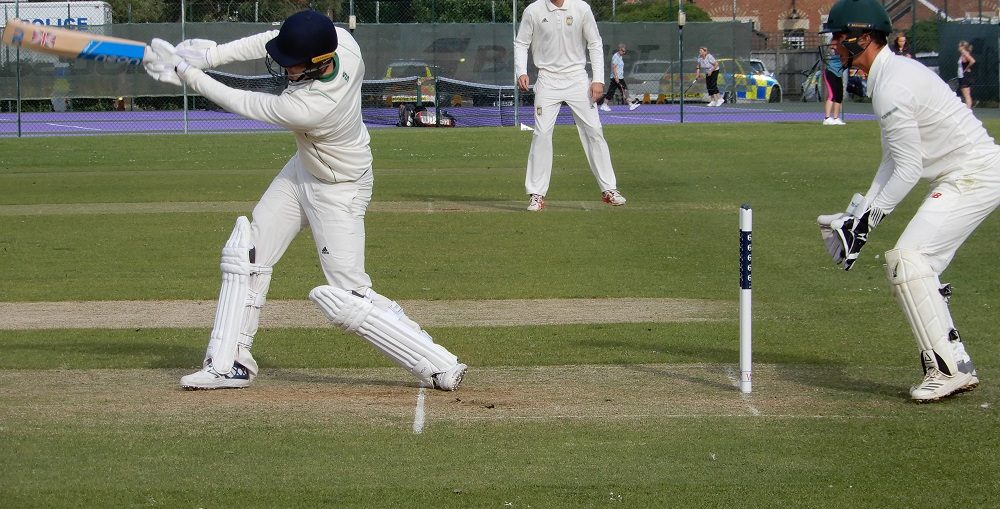 The second T20 of the week was  against DCC, again with Tom Grant in charge, and plenty of Queries on both sides. Queries won the toss, batted first, and then lost Jack Bramwell to the first ball of the game caught by Tom Pike at slip.David Bromley took the game to DCC but until he was joined by his brother Pat when we were 4 down, his partners couldn't match his hitting power.  He finished with a creditable 84, Pat with 31 and we ran out of overs with a below-par score of 138.
DCC had a similar start, and were still in the 50s after 10 overs  but when skipper Parker joined Michael Kelsey, they put their foot on the accelerator and upped the run rate. It took them just 19.1 overs to clear their target and Queries had lost by 8 wickets. One wicket apiece to Hugh Norman and Pat Bromley.
It was great to see Vaughn Williams again, back in Wiltshire for a half term weekend: we watched Tom Pike bowling really very well and hope to see him in Queries colours this season: and perhaps Dom Shearn and Michael Kelsey will be persuaded to play some Queries cricket this season. They would both be very welcome.
Thanks to Tom Grant for raising two sides for two T20s in one week.
Wiltshire Queries CC v Devizes CC
Played on:   30th May 2019
At:   DCC
Toss won by    Queries  who elected to bat first in this T20
Result:  DCC won by 8 wickets
1st Innings:    Queries
2nd Innings:   DCC
1
Jack Bramwell
ct Pike, b Pithouse
0
1
J Dunford
ct Himbury, b Norman
18
2
E Himbury
b Pike
2
2
M Kelsey
ct Candler, b Bromley P
47
3
David Bromley
b Dunford G
84
3
S Parker *
Not out
55
4
Ian Wheeler
st Pirie, b Shearn
2
4
G Lawton
Not out
9
5
Vaughn Williams
st Pirie, b Eart
4
5
D Pirie +
6
Pat Bromley
c&b Dunford G
31
6
D Shearn
7
J Candler
ct Pike, b Dunford G
0
7
S Surendran
8
Hugh Norman
8
G Dunford
9
Cam Garbutt
9
T Pike
10
Rupert Bagnall
10
C Earl
11
Tom Grant *+
11
A Pithouse
Extras
3
Extras
11
Total
138
Total
140
Wkts
7
Wkts
2
* captain    † w/keeper   © = candidate/non-member
FoW:
FoW:
Bowling
 
Bowling
Bowler
Overs
Mdns
Runs
Wkts
Bowler
Overs
Mdns
Runs
Wkts
A Pithouse
4
1
23
1
J Candler
4
0
18
0
Sumith Surendran
2
0
23
0
V Williams
3
0
16
0
Tom Pike
3
1
3
1
H Norman
3
0
19
1
C Earl
4
0
24
1
R Bagnall
3
0
23
0
Dom Shearn
2
0
26
1
C Garbutt
2
0
15
0
G Dunford
3
0
26
3
P Bromley
3
0
21
1
M Kelsey
2
0
17
0
D Bromley
1
0
15
0
J Bramwell
0.1
0
4
0
[20]
[2]
[142]
[7]
[19.1]
[0]
[131]
[2]
Umpires:
Scorer: