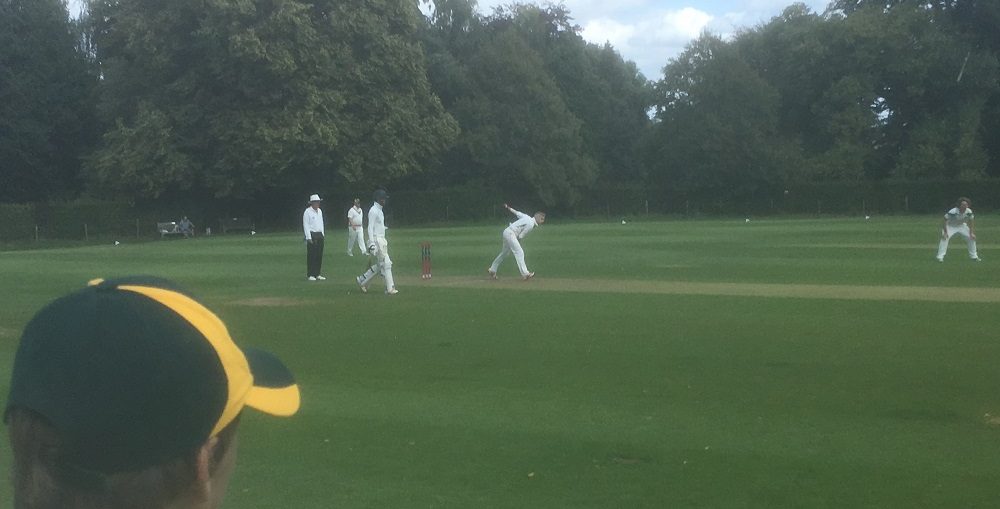 Andy Palmer had assembled a mixed XI of youth and experience: we had two father – son combos in the Campbells and the Hughes, we welcomed Hamish Fyfe back after an absence of a couple of years, we welcomed Scyld Berry and George Edwards making their début for the Queries, and we the experience of Tom Churchill, Jake Hand, Matt Haslett and Felix Plant. We won the toss, and elected to bowl first on a track which had got quite wet overnight. Openers Matt and George were reasonably economical for the first 9 overs and during their spell two brilliant run-outs from Hamish Fyfe removed both openers.  Jake Hand and Scyld Berry followed and between them conceded only 18 runs in 10 overs. The two sons, Humphrey and Jack then took 5 wickets between them, leaving 2 wickets to be shared by Felix and Hamish. 40 overs and HCCC were 171 for 9.
Our reply with the bat started well enough but it was the explosive hitting of Tom Churchill that took the game away from HCCC. He smashed 7 sixes and 9 fours on his way to an unbeaten 92 and the victory was sealed with a no-ball 6. Queries won by 5 wickets.
The Queries always enjoy the HCCC match: its a game always played in the right spirit, at a delightful ground, and with a tea to die for!  Thank you very much indeed for hosting us today.
Wiltshire Queries CC v Hinton Charterhouse CC
Played on:   20th August 2019
At:   The Vermont, Hinton Charterhouse
Toss won by Queries  who elected to bowl first
Result:  Queries won by 5 wickets
1st Innings:    HCCC
2nd Innings:   Queries
1
C Antrobus
Run out [Fyfe]
9
1
F Plant
lbw Metcalfe
10
2
F White
Run out [Fyfe]
9
2
F Hughes
b Butcher
17
3
A Mapstone
ct Plant, b Hughes H
24
3
G Edwards
ct Mapstone, b Butcher
17
4
W Metcalfe
ct Edwards, b Hughes H
28
4
H Fyfe
ct Mapstone, b Harden
0
5
J Abington
b Plant
0
5
T Churchill
Not out
92
6
J de Lange
ct Churchill, b Hughes H
19
6
M Haslett
b Lee
10
7
G Harden
c & b Fyfe
27
7
Jack Campbell
Not out
5
8
M Fricker
b Campbell J
14
8
S Campbell
9
H Lee
b Campbell J
8
9
J Hand
10
D Wheeler
Not out
12
10
H Hughes
11
S Butcher
Not out
1
11
S Berry
Extras
29
Extras
21
Total
171
Total
172
Wkts
9
Wkts
5
* captain    † w/keeper   © = candidate/non-member
FoW: 14/1; 20/2; 77/3; 83/4; 86/5; 118/6; 141/7; 154/8; 159/9
FoW: 19/1; 41/2; 49/3; 53/4; 102/5
Bowling
 
Bowling
Bowler
Overs
Mdns
Runs
Wkts
Bowler
Overs
Mdns
Runs
Wkts
Matt Haslett
6
1
25
0
S Butcher
8
0
31
2
George Edwards
5
0
20
0
W Metcalfe
4.1
0
30
1
Jake Hand
6
3
7
0
E Harden
5
0
27
1
Scyld Berry
4
1
11
0
H Lee
4
0
46
1
Humphrey Hughes
7
1
41
3
M Fricker
1
0
21
0
F Plant
4
0
17
1
D Wheeler
2
0
13
0
Hamish Fyfe
4
0
24
1
Jack Campbell
4
1
23
2
[40]
[7]
[168]
[7]
[24.1]
[0]
[168]
[5]
Umpires:  Barry Stygal, Barry Aitken
Scorer:  Andy Palmer, Mike Abington