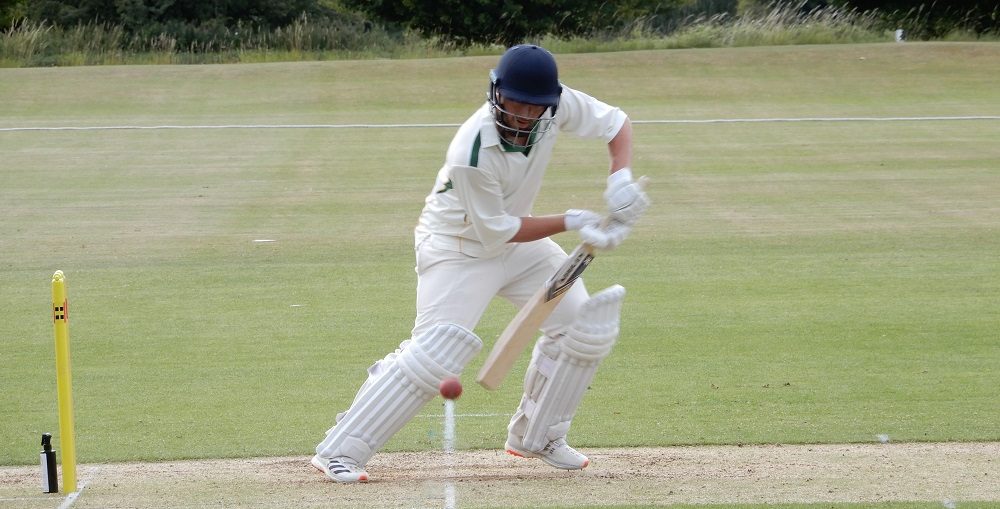 Today we played The Incogniti CC at the Tidworth ground. A team of experience and youth lead by Tom Shaw who lost the toss and was put in the field. Perhaps the Incogniti regretted that decision when they were 2 down for 11 runs after just 18 minutes Olly Illingworth taking both wickets. A 3rd wicket stand of 84 runs followed, and then 4 wickets fell in the space of 16 runs thanks to some good catching. After another stand of 50 runs or so, the final 4 wickets fell in the space of 30 runs and Incogniti were all out for 190 in their 37th over. 3 to Olly Illingworth, 3 to David Bromley, 2 to Iain Kiy, and one apiece  for Tom Andrew and Jack Bramwell. In all, 8 wickets fell to catches.
Our reply started quite soundly and what a pleasure it was to see James Illingworth opening the Query batting again after an absence of a year or three! With Ian McMurray, they put on 28 for the first wicket when Ian was trapped lbw for 11. A stand of 28 followed with Tom Churchill [33], and with 90 on the board, partnering skipper Tom Shaw, James was out lbw for 35. Tom then became the anchor and was confident that he and "the engine room" as he called Jack Bramwell and David Bromley would see the side home. How wrong! Jack was given out lbw for 27, Tom Andrew went for a golden duck, and David Bromley also got a duck. We were 142 for 6 with 8 overs left. Tom batted on confidently and with Edd Sutthery saw us home in the 38th over to a 4 wicket victory, with our skipper carrying his bat for 52*.
Many thanks to groundsman John for giving us a decent track to play on: and also to The Incogniti for being such pleasant and affable cricketers to play against: and to scorer Jakki Knight for dong all the hard work.
This Sunday 9th August we play our third fixture against Farley CC.
Wiltshire Queries CC v The Incogniti CC
Played on:   4th August 2020
At:   Tidworth Cricket Ground
Toss won by  Incogniti   who elected to bat first
Result:  Queries won by 4 wickets
1st Innings:    Incogniti
2nd Innings:   Queries
1
N Malik
ct Shaw, b Illingworth O
4
1
James Illingworth
lbw Grills
35
2
H Nadir
ct Illingworth O, b D Bromley
46
2
Ian McMurray
lbw Kahram
11
3
S Bowry
lbw Illingworth O
4
3
Tom Churchill
b Grills
33
4
K Bala
ct Churchill, b Kiy
35
4
Tom Shaw *
Not out
52
5
O Wood
ct ?, b T Andrew
3
5
Jack Bramwell
lbw Grills
27
6
H Brook
ct Shaw, b Kiy
41
6
Tom Andrew
b Grills
0
7
S Starost
c&b Bromley D
2
7
David Bromley
b Malik
0
8
Kahram
c&b Bromley D
32
8
Edd Sutthery +
Not out
21
9
T Sims
ct D Bromley, b J Bramwell
3
9
Iain Kiy
10
J Grills
b Illingworth O
0
10
Nick Leach
11
Sared
Not out
6
11
Olly Illingworth
Extras
14
Extras
12
Total
190
Total
191
Wkts
10
Wkts
6
* captain    † w/keeper   © = candidate/non-member
FoW: 4/1; 11/3; 95/4; 96/2; 105/5; 111/7; 160/8; 177/9; 181/6; 190
FoW: 28/2; 56/3; 90/1; 141/5; 141/6; 142/7
Bowling
 
Bowling
Bowler
Overs
Mdns
Runs
Wkts
Bowler
Overs
Mdns
Runs
Wkts
Olly Illingworth
6
0
25
3
Starost
5
1
11
0
Nick Leach
5
1
21
0
Wood
6
0
41
0
Iain Kiy
6
0
45
2
Kahram
8
1
19
1
Tom Andrew
8
1
20
1
Brook
3
0
34
0
David Bromley
7
0
24
3
Grills
8
1
32
4
Tom Shaw
3
0
37
0
Malik
8
0
50
1
Jack Bramwell
2
0
12
1
Umpires:  Barry Aitken, Tim Sims
Scorer: Jakki Knight, John Andrews