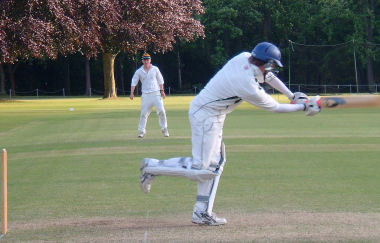 7 years of century-less Query cricket was put right yesterday as Tom Shaw hit 133 in the match against The Frogs CC at the Tidworth Ground. The last time Tom "got the ton" was in 2013 when he scored 138 against The Grannies CC at Devizes.
Yesterday's achievement was Tom's 8th for the Queries, helping to take him past 2000 runs (2095 at 56.6) and is the second time he has been dismissed on 133 – the first time being his debut match versus Chippenham CC in 2008 !
We hope you'll keep playing and keep enjoying your Queries cricket Tom !