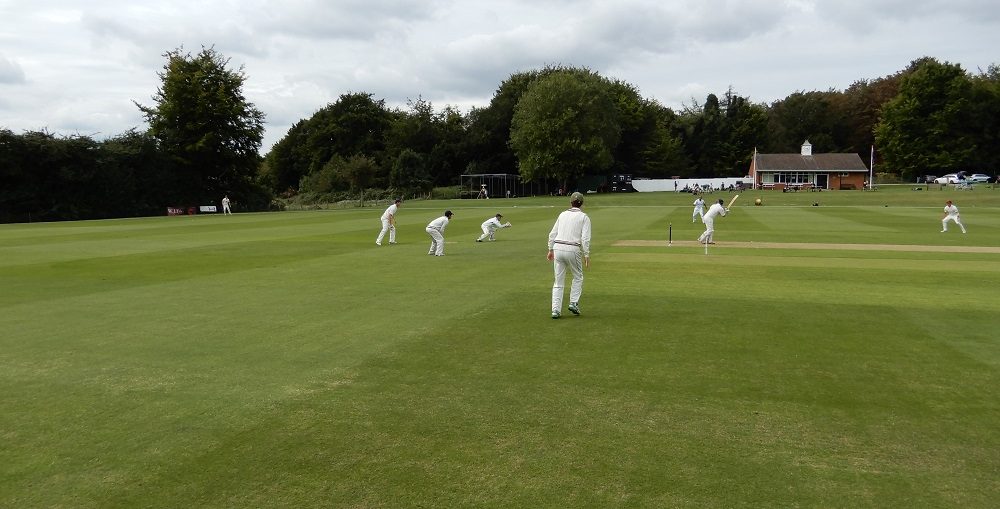 Playing the Gunners at Larkhill can often seem a daunting challenge to new or younger Queries. The Gunners travel from all over for this match, and today was no exception with some of their players travelling from Newcastle!  As they are preparing for their major fixture against the Royal Engineers later this month, it was agreed that they would bat first. The weather was set fair, the track looked good, and the Queries were "up for it". Rowan Duckworth opened with the new ball and straightway was giving the batsmen challenges. He got their skipper caught at 38, and then clean bowled the other opener and the Gunners were 44 for 2. Rowan had a very good spell of 8 overs and finished with the figures of 8-1-41-3. Matt Haslett, at the other end, kept a tight line, conceding just 24 runs in 4 overs. The James Brewer bowled a super spell of 8 overs, conceding just 28 runs, and getting batsmen in all sorts of knots. A short spell from Andrew Duckworth was a tad expensive, and then skipper Paul Roberts turned to Suman Stretsha and his fizzing leg spin: Suman bowled 8 overs conceding just 25 runs and taking 3 wickets and with James B was probably the bowler who gave the batsmen the most problems. James Kelly continued his good form from Monday's match with 5 overs, one for 34: James Leworthy took 1 for 18 in 3: and skipper Paul Roberts bowled himself for 2 overs, conceding 15 runs. At the end of their 40 overs, and by now it was raining gently but annoyingly, RACC closed on 213 for 8.
After the tea break, Queries opened with Suman Stretsha and Andrew Duckworth. Suman looked in good nick before getting stumped for 24, however Andrew was bowled by the first ball he faced. It was still raining, we had been on and off twice, Josh Kelly was looking unruffled on 10 and the umpires took the players off. The rain persisted, Dan Pirie never got to the crease, the skippers shook hands and the match was abandoned as a draw.
There was a nice atmosphere on the field today, and we thank the Gunners for their hospitality and welcome. We saw James Brewer in his inaugural Queries match, and recognise a real bowling talent and energetic fielder: Josh Kelly confirmed his skills with bat and ball and is also an athletic fielder: we held 5 catches, some of them very high and very deep, which in these wet conditions was a big plus: we enjoyed having the Duckworth twins playing with us again: we must sign up Suman Stretsha who is a prodigious leg spinner: and our thanks go to all the players who turned out today to represent the Club.
Wiltshire Queries CC v Royal Artillery Larkhill
Played on:   2nd September 2020
At:   Larkhill Garrison
Toss won by  RACC  who elected to bat first
Result:  Match abandoned as a draw – rain.
1st Innings:    RA CC
2nd Innings:   Queries
1
A Park *
ct Duckworth A, b Duckworth R
23
1
S Stretsha
st Cross, b Harmer
24
2
J McRae
b Duckworth R
10
2
A Duckworth
b Tyson
0
3
C Ross
ct Roberts, b Stretsha
11
3
Josh Kelly
Not out
10
4
T Osman
ct Pirie, b Stretsha
37
4
Dan Pirie
5
D Cross +
b Kelly
35
5
Manny Gurung
6
B Spence
st McClure, b Stretsha
4
6
James Leworthy
7
P Singh
Not out
31
7
Rowan Duckworth
8
N Schofield
ct Stretsha, b Duckworth R
43
8
James Brewer
9
C Harmer
ct Roberts, b Leworthy
2
9
Matt Haslett
10
T Barker
Not out
2
10
Sean McClure +
11
Alla
11
Paul Roberts *
Extras
15
Extras
12
Total
213
Total
46
Wkts
8
Wkts
2
* captain    † w/keeper   © = candidate/non-member
FoW: 38/1; 44/2; 91/3; 93/4; 108/6; 143/5; 206/8; 210/9
FoW: 3/2; 46/1
Bowling
 
Bowling
Bowler
Overs
Mdns
Runs
Wkts
Bowler
Overs
Mdns
Runs
Wkts
Rowan Duckworth
8
1
41
3
F Tyson
5
0
14
1
Matt Haslett
4
0
24
0
T Barker
4
0
23
0
James Brewer
8
1
28
0
C Harmer
2
1
7
1
Andrew Duckworth
2
0
25
0
C Ross
1
0
2
0
Suman Stretsha
8
1
25
3
Josh Kelly
5
0
34
1
Paul Roberts *
2
0
15
0
James Leworthy
3
0
18
1
[40]
[3]
[210]
[8]
Umpires:  Barry Aitken, Ben Hood
Scorer:  Jakki Knight, Chris Park
Brief match report:

Match abandoned [rain] at 4.25pm, after 12 overs of the Queries innings had been bowled.