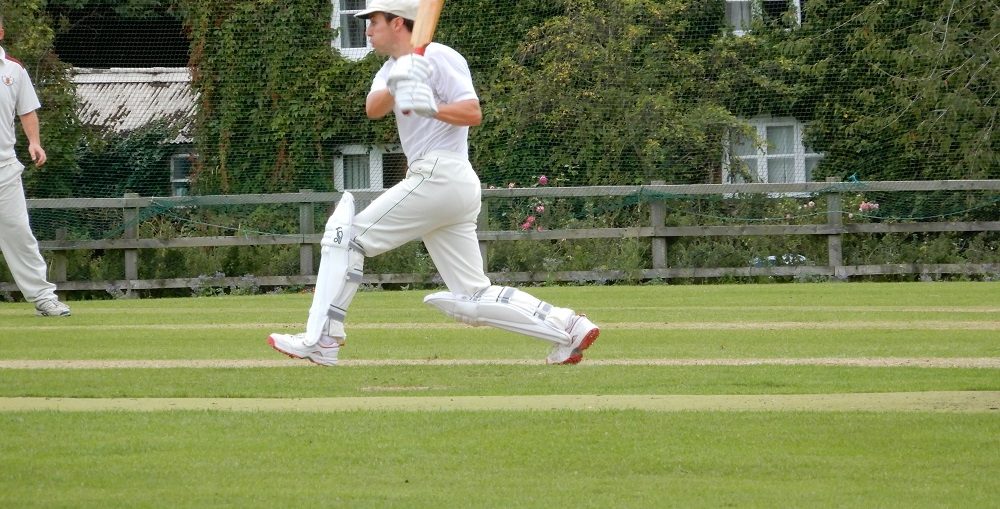 This was an inaugural match for the Queries for which both teams were 'oversubscribed' demonstrating how keen people are to play in these exceptional times. Queries won the toss and inserted their hosts, making a very promising start as skipper Rupert Bagnall bowled one opener in the 3rd over, and Ed Olley took a second wicket in the 8th. A run out followed and BCCC was 68/3. However Harry Easton, who has played once or twice for the Queries, settled in to his crease and scored a useful 43 before getting well bowled by an inswinger from Jack Campbell. Other wickets came and went but it was BCCC skipper Stan Alsop who did all the damage and drove their total past 200 with his own contribution of 82. BCCC finished their 35 overs at 233 for 9. Ed Olley and Ninian Macgregor took two apiece, and Rupert Bagnall, Jack Butler, Josh Sullivan, Jack Campbell and Paul Sullivan took one apiece. Game on !
We started well, and Josh Sullivan was particularly impressive with his eight 4s and one 6 before he was unlucky to get run out one short of his maiden half century. It was a very good innings and we would hope to see more of Josh next season. Dan Pirie top-edged a rising ball for 14, Jack Campbell was lbw for 19 and then everyone else except Ed Olley fell away.  Ed was in defiant mood and belligerently hit the ball to all corners of the ground for a wonderful 77 when they finally caught one of his big bashes. A cameo 10 from Rupert Bagnall at the close, and Queries were all out for 208, 25 short of their target.
Obviously Ed's innings stole the show, but Josh Sullivan with bat and ball [5 overs 1 for 32], Jack Campbell also with bat and ball should both make popular Queries next season and beyond.  Jack Butler bowled well and unflappably and is a much better bowler than he thinks! Dan Pirie had another competent game with the gloves, and Josh's father Paul also bowled a really useful 5 overs for just 32 runs. There were lots of positives to take from this game: Queries cricket is in a good place with people like these in its ranks.
Many thanks to Ed Davies for hosting the fixture and his excellent bbq after the match. We shall look forward to a return fixture next season, hopefully is Covid-free conditions.
Wiltshire Queries CC v Bishop's Cannings CC
Played on:   6th September 2020
At:   Coate
Toss won by Queries  who elected to field first
Result:  Queries lost by 37 runs
1st Innings:   BCCC
2nd Innings:   Queries
1
E McQuaid
Run out
37
1
Dan Pirie +
ct Easton, b McQuaid R
14
2
M Lever
b Bagnall
0
2
Josh Sullivan
Run out
49
3
Vaughn-Johns
b Olley
7
3
Jack Campbell
lbw Easton A
19
4
Easton H
b Campbell J
43
4
Ed Olley
ct ?, b Alsop
77
5
B Whithead
b Butler J
0
5
Alex Morgan
b Alsop
2
6
C Paget
st Pirie, b Macgregor
18
6
Charlie Butler
b Alsop
0
7
S Alsop
ct Campbell S, b Olley
82
7
Simon Campbell
ct ?, b Easton A
0
8
Bramwell J
ct Campbell S, b Macgregor
6
8
Jack Butler
b Easton A
0
9
Easton A
b Sullivan J
8
9
Paul Sullivan
Not out
2
10
Taylor S
Not out
6
10
Rupert Bagnall *
Not out
10
11
McQuaid R
Not out
1
11
Ninian Macgregor
dnb
Extras
25
Extras
35
Total
233
Total
208
Wkts
9
Wkts
8
* captain    † w/keeper   © = candidate/non-member
FoW:
FoW:
Bowling
 
Bowling
Bowler
Overs
Mdns
Runs
Wkts
Bowler
Overs
Mdns
Runs
Wkts
Rupert Bagnall
5
1
10
1
R McQuaid
7
0
44
1
Ed Olley
7
1
36
2
S Taylor
7
2
43
0
Jack Butler
7
0
46
1
E Hawkins
5
0
27
0
Paul Sullivan
5
0
32
1
A Easton
7
1
22
3
Ninian Macgregor
5
0
45
2
S Alsop
5
0
27
3
Jack Campbell
4
0
34
1
M Lever
1
0
13
0
Josh Sullivan
2
0
32
1
Vaughn-Johns
1
0
12
0
[35]
[2]
[235]
[9]
B Whitbread
1
0
6
0
[35]
[3]
[194]
[7]
Umpires:  B Aitken & various
Scorer:   various