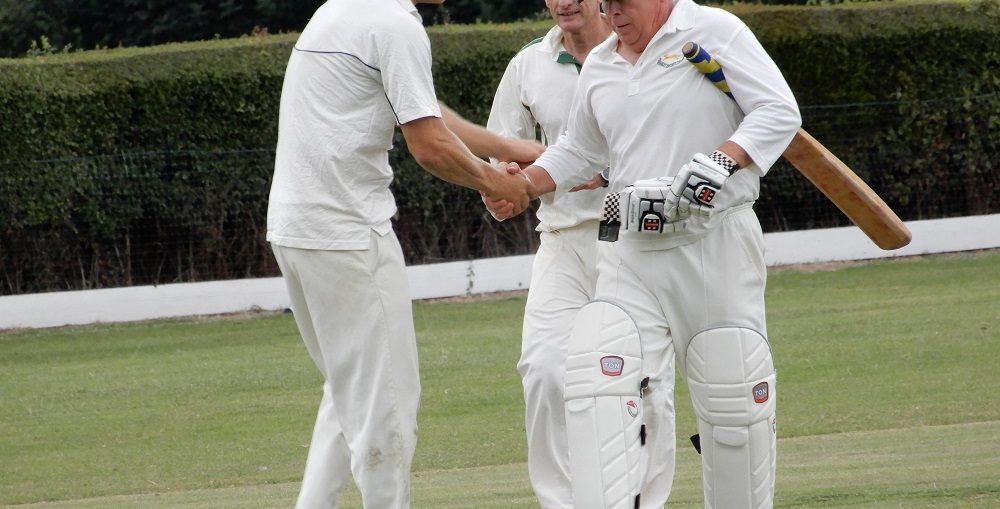 Everything started so well!  We lost the toss and were put in the field. 8 off Matt Haslett's first over was , well, just a bit of a loosener. Then a double wicket maiden for Richard Baxter in the second over sent everyone cockahoop.  Farley were 8 for 2 and a third wicket in Richard's second over and they were 18 for 3. And there the ecstacy stopped!  J Burton and Geoff Ramsey got their heads down and made a stand of 152 when Burton was bowled by Matt Haslett for 52.  Geoff continued with brother Matt Burton until Matt was caught off Baxter for 31, leaving Geoff and George Manston to see it out till the 35 th over with Geoff unbeaten on 95. Farley finished with 221 for 5: Richard Baxter had taken 4 for 53.
Our reply started quite positively – what innings doesn't when Tom Churchill is at the crease? – but he was caught on the boundary for 21 and his opening partner was bowled in the same over. The next 3 wickets were all quite cheap and we were 75 for 5. Richard Baxter became the anchor and was going well but we were behind the run rate and in the effort to force the pace, he was bowled for 54. A spirited attack from Matt Haslett and Simon Campbell caused a little bit of concern to the Farley boys but eventually the Queries ran out of overs with the score at 200 and lost the match by 21 runs, with Matt on 14 and Simon on 36. 12 sixes were scored in the day, and 42 fours. Well done to Farley, thanks for the match and thanks too for the bbq after the game.
It was great to see Harry Flack back on a field for the Queries after a long lay-off with knee injury: and hopefully we may persuade Richard Baxter to come and play more Queries cricket in the future.
Wiltshire Queries CC v Farley CC
Played on:   4th August 2019
At:   Coronation Field
Toss won by  Farley   who elected to bat first in a 35 over match
Result:  Farley won by 21 runs
1st Innings:    Farley
2nd Innings:   Queries
1
J Melhorn
ct Palmer, b Baxter
9
1
Tom Churchill +
ct Waters, b Ramsey
21
2
H Jenkins
ct Burdis, b Baxter
7
2
A Smith
b Ramsey
10
3
M Fower
st Churchill, b Baxter
0
3
P Burdis
ct Melhorn, b Waters
12
4
J Burton
b Haslett
52
4
Tom Palmer
b Waters
7
5
G Ramsey
Not out
95
5
E Denton
b Waters
2
6
Matt Burton
ct ?, b Baxter
31
6
Richard Baxter
b Burton
54
7
G Manston
Not out
5
7
Jon Moore *
lbw Waters
4
8
Marc Burton
8
L Healy
ct Burton J, b Hand
14
9
S Burton
9
Matt Haslett
not out
14
10
J Hand
10
Simon Campbell
not out
36
11
11
Harry Flack
dnb
Extras
22
Extras
36
Total
221
Total
200
Wkts
5
Wkts
8
* captain    † w/keeper   © = candidate/non-member
FoW: 8/1; 8/2; 18/3; 170/4; 215/5
FoW: 37/1; 37/2; 64/3; 66/4; 75/5; 103/6; 137/7; 150/8
Bowling
 
Bowling
Bowler
Overs
Mdns
Runs
Wkts
Bowler
Overs
Mdns
Runs
Wkts
M Haslett
7
0
51
1
Marc Burton
3
0
18
0
R Baxter
7
1
53
4
G Ramsey
7
0
48
2
H Flack
5
1
21
0
Matt Burton
7
0
29
0
L Hely
7
1
23
0
Sam Waters
7
3
18
4
J Moore
6
0
31
0
Jake Hand
7
0
53
1
S Campbell
3
0
29
0
J Burton
4
0
14
1
[35]
[3]
[208]
[5]
[35]
[3]
[180]
[8]
Umpires:  B Aitken plus various
Scorer:   Jackie Knight