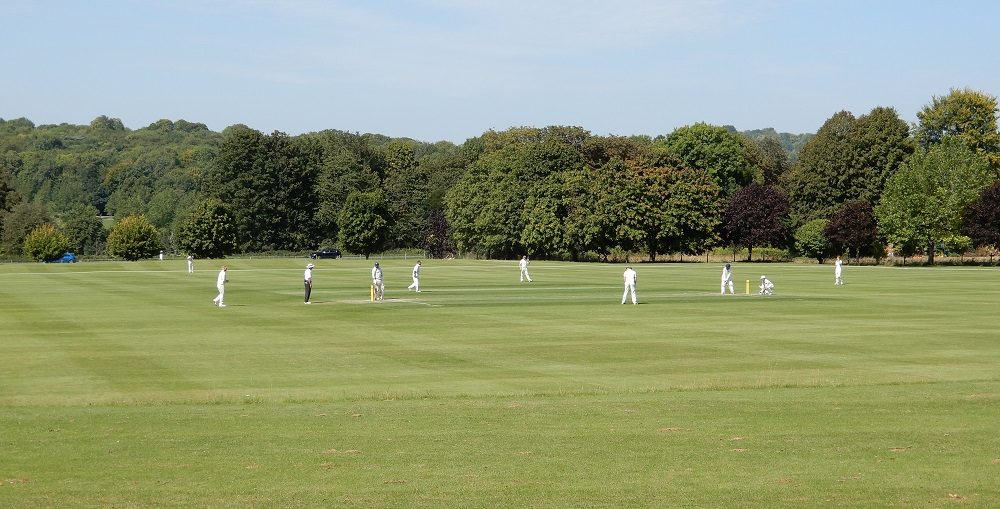 It was a wonderful day and the Tidworth ground looked a picture. Frogs won the toss and decided to bat first and it was immediately clear that bowling was not the Queries strongest suit.  Extras mounted up – there were 26 in all – and the Frogs openers capitalised. Sam Waters steadied the ship well with his spin, bowling a tidy spell of 10 overs one for 38 but generally we allowed too much freedom to the batters and they declared at 2.31pm after just 34 overs. Oscar Robertson, Sam Waters and Nick Lind each took one wicket apiece. In reply the Frogs bowled quite quickly and at tea it was clear that the Queries, if they could last, would be facing about 42 overs. But they didn't last. After 22 overs, when tea was taken, we were already 5 down with only 69 runs on the board. James Melhorn [21] was beginning to get settled when he was stumped. Nick Jephson [13], Tom Shaw [19] and Nick Lind [3] were all victims of their opening bowler and caught: Tom Palmer was beginning to score well when he skied one to extra cover for 27: and we thought that Harry Streatfeild [43] and Simon Campbell [24] might save the day with a draw but both were bowled trying to force the pace.  The tail collapsed and we were all out for 166 in 36.1 overs. The Frogs best bowling came from young Edward Campion who is just 13 years old!
Still 'n all it was a lovely day in the sun. Thanks to Sam from ForkingOut for a great lunch and tea: thanks to the Frogs for the days cricket and we wish them well for the remainder of their tour in the West country.
Wiltshire Queries CC v The Frogs CC
Played on:   26th August 2019
At:   Tidworth ground
Toss won by  the Frogs who elected to bat first
Result:  The Frogs won by 71 runs
1st Innings:    Frogs
2nd Innings:   Queries
1
Carson C *
ct Shaw, b Lind
78
1
James Melhorn
st Sykes, b Allen
2
Lawton A
b Waters
13
2
Nick Jephson +
ct Sykes, b Wright
3
Sykes A +
b Robertson
53
3
Tom Shaw
c&b Wright
4
Gray K
Not out
43
4
Nick Lind
ct Sykes, b Wright
5
Walker E
Not out
25
5
Tom Palmer
ct Carson, b Campion
6
Lawton C
6
Edd Sutthery
b Campion
7
Marshall A
7
Harry Streatfeild
b Marshall
8
Chalk R
8
Jon Moore
lbw Marshall
9
Campion E
9
Simon Campbell *
b Campion
10
Wright J
10
Sam Waters
Not out
11
Allen T
11
Oscar Robertson
B Campion
Extras
26
Extras
Total
238
Total
Wkts
3
Wkts
* captain    † w/keeper   © = candidate/non-member
FoW: 50/1; 170/2; 178/3.
FoW: 23/1; 53/2; 60/3; 60/4; 63/5; 1118/6; 134/7; 165/8; 165/9; 166/10
Bowling
 
Bowling
Bowler
Overs
Mdns
Runs
Wkts
Bowler
Overs
Mdns
Oscar Robertson
8
0
32
1
Wright
10
2
James Melhorn
4
0
20
0
Lawton C
7
2
Jon Moore
4
0
32
0
Allen T
7
1
Sam Waters
12
1
61
1
Campion E
8.1
0
Harry Streatfeild
6
0
34
0
Marshall A
4
0
Edd Sutthery
2
0
10
0
Nick Lind
3
0
43
1
[34]
[2]
[232]
[3]
[36.1]
[5]
Umpires:  Howard Moore, Tony Reed
Scorers: Barry Aitken and ?