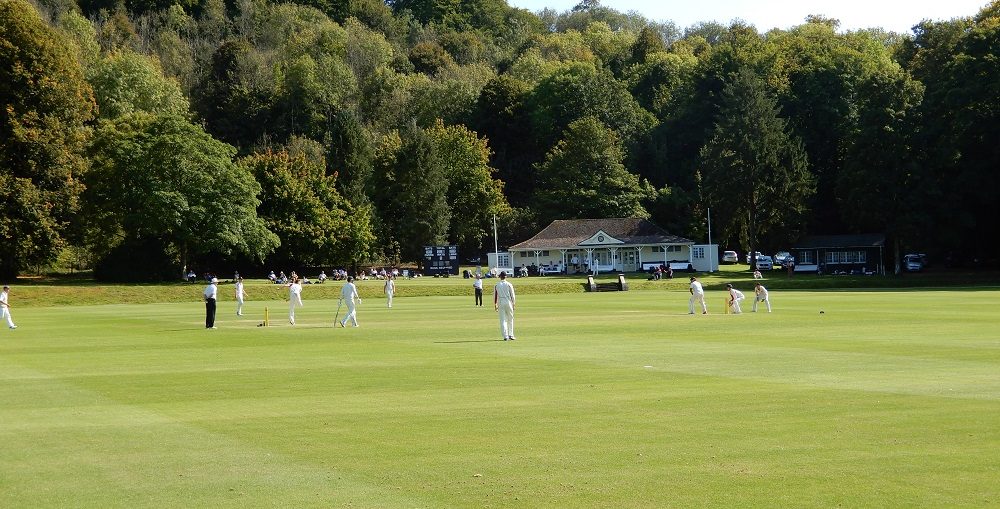 The aim of today's match was to organise a fixture for the Dauntsey's 2020 1st XI players who had missed the whole of their season. Not all of the original XI were available and a few places were filled by current pupils however it promised, thanks to the heroic efforts of organisers Jack Butler [for Dauntsey's] and Simon Campbell [for the Queries], to be an epic day. And what a picture Tidworth ground looked – [picture below] – bathed in sunshine and presented in peak condition. Queries lost the toss and were inserted, the parents and siblings gathered on the bank, a hush descended across the ground, and play was called! And play is exactly what openers David Bromley and Sumith Surendran gave us, putting on 138 for the first wicket. David was in imperial form, sending the ball the all corners and punishing the bad ball hard. After Sumith was bowled for 33, and Oscar Robertson came and went, Will Pascal joined David for a stand of 100 before David popped up a catch to George Lishman. He had hit 14 fours and 7 sixes and fell three runs short of 150. Not to be put in the shade, Will also dominated the crease, scored 4 sixes and 9 fours of his own, and carried his bat for 114. Two centurions in the same match !  Our middle order was not in such fine form, however, and we ended our 40 overs on 349 for 6. The bowlers' figures don't make a good read, perhaps through lack of practice but certainly not through lack of enthusiasm. However it has to be said that the two dropped slip catches in the first and third overs were to prove mighty expensive!
After a sumptuous tea, it was the Queries turn and skipper Rupert Bagnall opened with the left arm pace of Tom Pike [6-1-29-1] and rather less pace from Jollyon Robertson who had volunteered to make up the numbers at the last moment, hadn't had a bat, and who helped the Exiles batters to get off the mark with a bucket of boundaries and good running. Tom tempted the opener into a catch with 72 on the board, William Wakeford induced a catch from the number 3, to be caught with the scoreboard reading 77, and only the keeper, Rolly Glover, looked likely staying the course and making a fist of it. Cue James Brewer and a bit of off spin with the slope, and Rolly was bowled for a decent 64 and sent back to the pavilion.  There then followed a sorry parade of wickets, with 5 wickets falling with the score on 151, which was their final score.  Oscar Robertson [1.5-0-9-3] cleaned up the tail taking 3 wickets in 11 balls for just 9 runs. James [6-1-20-3] helped himself to another 2 wickets, Oscar also completed an excellent run out, and William Wakeford claimed a second wicket [6-1-38-2].
Off-field Director of Cricket James Williams – who should have been playing and skippering but had been injured – nominated Rolly Glover as Man of the Match; Barry Aitken thanked everyone for coming; Jack Butler said how much they had enjoyed their day and thanked the Queries; and Simon Campbell paid tribute to everyone who had made this match happen, and looked forward to the Queries vs Dauntsey's match next season when, by all accounts, Rolly Glover will be skipper and we shall be delighted to see him in that role.
It was very nice to see so many supporters at this match, including the Headmaster, as well as senior Queries Peter Salisbury, David Germain and Howard Moore who umpired.
Wiltshire Queries CC v Dauntsey's Exiles CC
Played on:   13th September 2020
At:   Tidworth Ground
Toss won by  Exiles  who elected to field first
Result:  Queries won by 198 runs
1st Innings:    Queries
2nd Innings:   Exiles
1
David Bromley
ct Lishman, b Reeve
147
1
A Richardson
ct Bagnall, b Pike
26
2
Sumith Surendran
b Richardson
33
2
Rolly Glover
b Brewer
64
3
Oscar Robertson
b Butler J
0
3
G Sherwood
ct Robertson J, b Wakeford
5
4
Will Pascal
Not out
114
4
C Butler
b Wakeford
1
5
Callum Burnstone
ct ?, b Butler J
25
5
Rory Case
b Brewer
23
6
James Brewer
ct ?, b Hodgson
4
6
W Hodgson
Not out
8
7
William Wakeford
ct ?, b arshall
7
7
J Butler
lbw Brewer
4
8
Tom Pike
Not out
2
8
Ollie Reeve
Run out [Robertson O]
0
9
Jollyon Robertson
9
C Marshall
b Robertson O
0
10
Sean McClure +
10
C Mallinson
lbw Robertson O
0
11
Rupert Bagnall *
11
G Lishman
b Robertson O
0
Extras
17
Extras
20
Total
349
Total
151
Wkts
6
Wkts
10
* captain    † w/keeper   © = candidate/non-member
FoW: 138/2; 139/3; 240/1; 313/5; 329/6; 344/7.
FoW: 72/1; 77/3; 111/2; 113/4; 142/5; 151/7; 151/8; 151/9; 151/10; 151/11
Bowling
 
Bowling
Bowler
Overs
Mdns
Runs
Wkts
Bowler
Overs
Mdns
Runs
Wkts
Callum Marshall
6
0
44
1
Tom Pike
6
1
29
1
George Lishman
8
0
56
0
Jollyon Robertson
4
0
51
0
Will Hodgson
4
0
22
1
William Wakeford
6
1
38
2
Arthur Richardson
8
0
73
1
James Brewer
6
1
20
3
Ollie Reeve
4
0
54
1
Oscar Robertson
1.5
0
9
3
Jack Butler
6
0
49
2
Josh Mallinson
4
0
47
0
[40]
[0]
[345]
[6]
[23.5]
[3]
[147]
[9]
Umpires:  Andy Palmer and Howard Moore
Scorer:  Jakki Knight